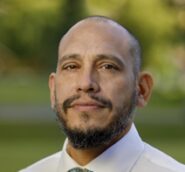 Back to Council
Leland Kinter, Tribal Treasurer
Leland Kinter began serving as Yocha Dehe Wintun Nation Tribal Treasurer in May 2022. He served as Tribal Chairman from 2015 to 2018 and has more than two decades of leadership experience with the Tribe.
A lifetime Yolo County resident, Treasurer Kinter was only 19 in 1994 when he started in government, serving five years as a Tribal Council Member. In 1999, when the Yocha Dehe Tribal Gaming Agency (TGA) was formed to regulate the Tribe's gaming business, he became its first Chairman and served in that role until 2015. In 2021, he was reappointed as the Agency's Chairman. He returned to Tribal Council in 2009 for a term as Tribal Secretary.
Treasurer Kinter is passionate about Yocha Dehe's efforts to preserve its native Patwin Language. Having earned an American Indian Languages Credential from the California Commission on Teacher Credentialing, he leads an innovative teaching program for adults and children that combines technology, social interaction and inter-generational communication. He believes language is a critical component to the resurgence of the Tribe's culture and that learning Patwin will help the Tribe's youth connect more directly with their heritage.
Treasurer Kinter also currently serves on several committees for the Yocha Dehe Wintun Nation, including Community Fund, Cultural Resources, Events, Health & Wellness, Facilities & Infrastructure, Property, Farm & Ranch, Academy School Board, Doyuti T'uhkama and as Secretary of the Yocha Dehe Fire Commission.