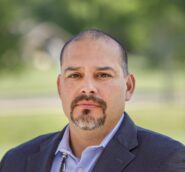 Back to Council
James Kinter, Tribal Secretary
In January 2021, James Kinter was elected to his fourth term as Tribal Secretary of the Yocha Dehe Wintun Nation. He has served on the Tribal Council since 2009. Additionally, he sits on the board of directors for Cache Creek Casino Resort, serving as Board Treasurer for Yolo County's largest, private employer since 2015.
Secretary Kinter has worked on behalf of Yocha Dehe in various capacities for more than 17 years. He serves as Chairman of the Fire Commission and the Tribe's Property, Farm & Ranch Committee, as well as Secretary of the Doyuti T'uhkama Board. He is a member of numerous other committees; Health and Wellness, Events and the Young Adult Assistance Program (YAAP).
James was appointed to the Fire Commission in 2003, and has served as Chairman since 2009. The Yocha Dehe Fire Department is the only tribal fire department in the nation to earn international accreditation- a process he guided in 2010, 2015 and 2020. The accreditation program is designed to help departments achieve the highest global standards in fire service.
First appointed to the Property, Farm & Ranch Committee in 2003, James has served as Chairman since 2004 and helped lead the development of the Tribe's Séka Hills brand, which includes estate grown varietal wines, extra virgin olive oils, nuts, honey, beef products, and the Séka Hills Olive Mill and Tasting Room. As a leader of the Tribe's farming operations, he is committed to building strong regional agricultural partnerships.
Along with serving as a key leader for the Tribe, its various enterprises and initiatives, Secretary Kinter is also a business owner. His restaurant, The Ravine on 16, offers high-quality American food. But more than that, it supports the economy of Esparto, California, and gives the community he loves a place to meet, eat, and enjoy life. Along with KV investments, and his previous enterprise, Executive One, he's been creating value and jobs in Northern California with his businesses.
Secretary Kinter knows Yocha Dehe's future rests with its youth. He taught a Patwin history class at the Yocha Dehe Wintun Academy for four years, and is committed to continuing education. In addition to teaching, he served as Yocha Dehe's Tribal Historic Preservation Officer from 2012-2018 to ensure Cultural Resources are protected. He actively encourages young citizens to get involved, have a voice and become leaders.