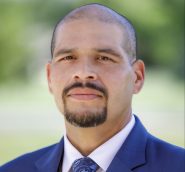 Back to Council
Anthony Roberts, Tribal Chairman
Anthony Roberts is Tribal Chairman of the Yocha Dehe Wintun Nation. Elected Chairman in January 2018, he has served on the Tribal Council since 2000 and as Treasurer since 2006.
Chairman Roberts is actively involved in the tribal community, serving as Chair of the Yocha Dehe Wintun Academy Board of Trustees, Doyuti T'uhkama and Cache Creek Casino Resort as well as Vice Chair for the Fire Commission.
Chairman Roberts is also a member of the Young Adult Assistant Program (YAAP), Facilities & Infrastructure, Health & Wellness and Community Fund committees. He formerly served as the Chairman and Commissioner of the Yocha Dehe Tribal Gaming Agency (TGA).
As Chair of the Yocha Dehe Wintun Academy Board, Chairman Roberts is committed to helping Yocha Dehe youth connect with their ancestral heritage, further their education and participate in the businesses and leadership of the Tribe.
As former Chair of the Community Fund Board, Chairman Roberts believes strongly in the Native tradition of giving and is gratified by the positive impact the fund has had in the region. He is a strong advocate for Autism Speaks, which focuses on funding, awareness, advocacy, research and treatment for individuals with autism and their families.
Chairman Roberts actively serves the greater Yolo County community as a member of the Yolo County Fair Board, a post to which he was appointed in 2012 by then Governor Edmund G. Brown, Jr.
Chairman Roberts has lived in the tribal community for most of his life. He is an avid sports fan and participates in an organized basketball league.