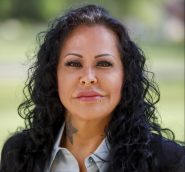 Back to Council
Yvonne Perkins, Tribal Council Member
Yvonne Perkins is serving her first term as a Tribal Council Member of the Yocha Dehe Wintun Nation after being elected in March 2021. Additionally, she was appointed by Tribal Council to sit on the Cache Creek Casino Resort Board of Directors and has served in this capacity continually since 2010.
Council Member Perkins is serving on several Committees for the Yocha Dehe Wintun Nation, including Facilities & Infrastructure, Fire Commission, Young Adult Assistance Program, Doyuti T'uhkama, and the Board of Trustees of the Academy. She is currently Chair of Health & Wellness and Cultural Resources, Vice-Chair of the Community Fund Board, Secretary of the Events Committee, as well as Treasurer for Property, Farm & Ranch.
Council Member Perkins is passionate about the health and well-being of Native communities and serves as a board member for Northern Valley Indian Health. In 2022, she was recognized as a "Woman of the Year" by the United States House of Representatives because of her leadership and work for the Yocha Dehe Wintun Nation. She takes pride in her work on the committees and aims to actively serving the community and provide good communication and support to the Tribes' employees and patrons.