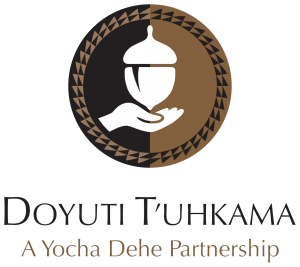 "To Give the Acorn"
The Tribe further expanded its philanthropy in 2016 with its establishment of Doyuti T'uhkama, a unique partnership with the State of California. Yocha Dehe established Doyuti T'uhkama to allocate funding newly available under the Tribe's unprecedented compact negotiated with the State in 2016, at which time the Tribe secured the legal right to redirect a portion of the money it would otherwise pay the State to a variety of worthy causes. The 2016 Tribal-State Gaming Compact empowers the Tribe to invest up to $24 million per year in initiatives and projects that fall within specific parameters. These so-called "compact credits" are administered by Doyuti T'uhkama.
Doyuti T'uhkama means "to give the acorn" in the Tribe's native Patwin language. Nutrient-rich acorns figured prominently in the lives of generations of California Indians; for the Patwin people, the acorn is a cherished symbol that reflects Yocha Dehe's commitment to sharing its resources, particularly with those in need.
To date, Doyuti T'uhkama has gifted $90 million to a variety of projects, causes and initiatives, all sharing the common benefit of improving the lives of Native people and the citizens of California. Since the first round of funding in 2017, the partnership has "shared the acorn" by funding multiple projects throughout the Tribe's aboriginal territory, including the renovation and expansion of the Yolo County Food Bank, the First 5 Early Childhood Education Center in Vallejo, and the Center for Land-Based Learning in Woodland.  Doyuti T'uhkama has also funded the Mobile Food Pharmacy, an unprecedented initiative dedicated to delivering healthy food to elderly, impoverished and immobile individuals throughout Solano County. The Mobile Food Pharmacy earned a Challenge Award by CSAC.
Doyuti T'uhkama is overseen by a Board of Directors appointed by and reporting to the Yocha Dehe Tribal Council, and the specific categories of giving that qualify for compact credits can be found in the 2016 Tribal-State Compact at Sections 4.6 and 5.3.
Apply for a Grant
• Register to receive a secure login
• Submit a letter of inquiry
• Complete a full application (following approval)
For new applicants, the first step is to register at Yocha Dehe's grant application portal.
For returning applicants, please visit Yocha Dehe's grant application portal and log in using your current username and password to access the grantee portal.
E: giving@yochadehe-nsn.gov
T: 530.796.3400